The National Association of Criminal Defense Lawyers (NACDL) is looking to hire someone to join its public defense department.
About Us
NACDL is the preeminent organization advancing the mission of the criminal defense bar to ensure justice and due process for persons accused of crime or wrongdoing. A professional bar association founded in 1958, NACDL's many thousands of direct members in 28 countries – and 90 state, provincial and local affiliate organizations totaling up to 40,000 attorneys – include private criminal defense lawyers, public defenders, military defense counsel, law professors and judges committed to preserving fairness and promoting a rational and humane criminal justice system. For more information about our organization, please visit www.nacdl.org.
NACDL is pleased to provide staff with a generous compensation and benefits package. NACDL affords the successful candidate an opportunity to work with a dedicated and talented team of experts.
Overview
NACDL is seeking to hire Public Defense Counsel to join its Public Defense Team. The position involves supporting all aspects of NACDL's public defense training and reform portfolio, with substantial focus on NACDL's "Justice For All: Supporting the Sixth Amendment" grant. This Bureau of Justice Assistance grant aims to enhance the capacity of state and local jurisdictions to ensure the fundamental protections of the Sixth Amendment, primarily targeting the rights to a speedy trial, impartial and representative jury, and access to witnesses and evidence. Additional information about the grant can be found in the project abstract.
Qualified candidates will possess a college degree and at least 3 years of relevant work experience with a preference for a J.D. or 3 years of experience in criminal justice.
Essential Functions and Responsibilities
Work collaboratively with a variety of criminal justice system stakeholders to support NACDL's Public Defense portfolio.
Assist in developing resources and content supporting NACDL's "Justice For All: Supporting the Sixth Amendment" grant deliverables.
Develop and maintain public defense and Sixth Amendment content on NACDL web platforms.
Conduct research and draft letters, memoranda, and statements on matters relating to public defense and on Sixth Amendment issues.
Support various grant functions including ensuring timely provision of services and compliance with reporting requirements.
Work with NACDL's Public Defense Team and other NACDL Staff to fulfill NACDL's mission to ensure all individuals receive fair, rational, and humane treatment within the criminal justice system.
Qualifications and Experience
Qualified candidates will possess strong organizational, writing, and critical thinking skills; have a demonstrable interest in criminal or social justice issues; and be comfortable with learning and using new technology.
Qualifications include:
Education and Experience:

College Degree, J.D. preferred
3 years of relevant work experience

Familiarity with core Sixth Amendment provisions and current issues in criminal justice, especially those relating to public defense
Effective task prioritization, time management skills, and attention to detail
Excellent written, verbal, and interpersonal communication skills
Demonstrated interest in criminal justice reform
Ability to work both independently and as part of a team
Ability to work well with NACDL's leaders, members, staff and allies
Demonstrated ability to cultivate relationships with a broad cross-section of criminal justice system stakeholder groups
Proficient with Microsoft Office, especially Excel and PowerPoint
Candidates must be willing to travel domestically. This position is based in Washington, D.C.
To apply: Send cover letter, resume and writing sample (5-10 pp.) to bhoffman@nacdl.org with "Public Defense Counsel" in the subject line. Applicants should provide a realistic statement of their salary expectation. Applications will be considered on a rolling basis. Position open until filled, but prospective candidates are encouraged to apply as soon as possible.
This is a sponsored ad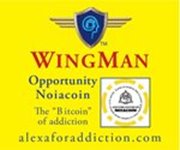 WingMan Opportunity Noiacoin
The "Bitcoin" of addiction