Department: Fourth Amendment Center
Location: Washington, DC or remote
Supervisor: Senior Litigation Counsel
Current Incumbent: VACANT
FLSA Status: Exempt
NACDL is the preeminent organization advancing the mission of the criminal defense bar to ensure justice and due process for persons accused of crime or wrongdoing. NACDL envisions a society where all individuals receive fair, rational, and humane treatment within the criminal justice system. NACDL's mission is to serve as a leader, alongside diverse coalitions, in identifying and reforming flaws and inequities in the criminal justice system, redressing systemic racism, and ensuring that its members and others in the criminal defense bar are fully equipped to serve all accused persons at the highest level. A professional bar association founded in 1958, NACDL's many thousands of direct members in 28 countries – and 90 state, provincial and local affiliate organizations totaling up to 40,000 attorneys – include private criminal defense lawyers, public defenders, military defense counsel, law professors and judges committed to preserving fairness and promoting a rational and humane criminal justice system. For more information about our organization, please visit www.nacdl.org.
The Staff Attorney will work with the Sr. Litigation Counsel and Director of NACDL's Fourth Amendment Center. NACDL's Fourth Amendment Center has three core objectives: (1) educate defense lawyers on emerging issues at the intersection of advancing technology, privacy, and the constitutional rights of the accused in criminal cases; (2) establish a practical and dynamic toolkit of resources to help lawyers identify opportunities to challenge government surveillance tools and techniques as they arise in criminal cases; and (3) assist in litigating cases that present an opportunity to challenge the use of new technologies and to partner with impact litigators.
The Staff Attorney serves as member of the National Affairs team and works under the leadership of the Fourth Amendment Center.
Essential Functions and Responsibilities:
Advise criminal defense lawyers on cases involving surveillance programs or technologies. Provide legal and technical expertise on the Fourth Amendment issues they raise through phone consultations, sharing of resources, assisting with expert referrals or direct assistance with legal pleadings.
Identify cases that are poised to change the law and warrant direct litigation assistance from the Fourth Amendment Center. Work with defense counsel to brief and argue the Fourth Amendment issues in these cases in both state and federal courts.
Conduct trainings and create online training modules on 4th Amendment issues.
Undertake and supervise legal research projects.
Assist the Director in determining the Fourth Amendment Center's strategic direction substantive priorities, and design and implement the public education programs.
Education, Experience and Competencies:
A J.D. degree and a minimum of two years of litigation experience, including experience defending criminal cases or relevant civil rights cases.
Admitted to practice law in a state or DC and a member of the bar in good standing.
A demonstrated commitment to civil liberties and criminal justice reform.
Excellent research, writing, and public speaking skills.
Ability to engage in complex legal analysis and fact-finding.
Ability to work independently as well as within a team.
Ability to manage competing priorities and rapid-response demands.
Ability to work well with NACDL's leaders, members, staff, and allies.
Flexibility to travel as required.
A working understanding of technology and surveillance concerns as they relate to the criminal justice system is preferred.
Physical Requirements & Environmental Factors
While performing the duties of this job, employees are regularly required to sit, walk and stand; talk or hear, both in person and by telephone; use hands repetitively to finger, handle, feel or operate standard office equipment; reach with hands and arms; and lift up to 25 pounds. Specific vision abilities required by this job include close vision, distance vision and the ability to adjust focus. While performing the duties of this job, employees are regularly required to use written and oral communication skills; read and interpret data, information and documents; analyze and solve non-routine and complex office administrative problems; use math and mathematical reasoning; observe and interpret situations; learn and apply new information or skills; perform highly detailed work on multiple, concurrent tasks; work under intensive deadlines with frequent interruptions; and interact with NACDL managers, staff, customers, the public and others encountered in the course of work. Employees work under typical office conditions, and the noise level is usually quiet. In certain assignments, an employee may occasionally travel overnight and work at NACDL sponsored member events.
To apply, please send a cover letter, resume, and writing sample to Jumana Musa at jmusa@nacdl.org with "Staff Attorney" in the subject line. Applicants are also asked to provide a realistic statement of their salary expectation. Applications will be considered on a rolling basis. Position open until filled, but prospective candidates are encouraged to apply as soon as possible.
Coronavirus Resources
NACDL to Focus on Service and Support for Members, Clients, and Community Throughout Virus Emergency
Learn More
This is a sponsored ad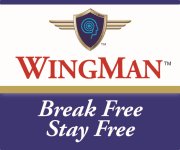 WingMan Technology
Generating Qualified Leads for NACDL Attorneys