Access to The Champion archive is one of many exclusive member benefits. It's normally restricted to just NACDL members. However, this content, and others like it, is available to everyone in order to educate the public on why criminal justice reform is a necessity.
 This column — the first written by NACDL's incoming president each August — has traditionally served as a call to action for the defense bar. In years past, the writer has used it to impress upon us the unique responsibilities criminal defense lawyers hold. The president has urged the protection of defendants' rights in every way possible to ensure that constitutional safeguards and guarantees are not infringed upon and to encourage each defense advocate to truly be Liberty's Last ChampionTM.
As I begin my own term as president of this esteemed association, the words of my predecessors could not be more fitting. Current events make it easy to be cynical and now, perhaps more than ever, liberty is once again in jeopardy. We, the nation's criminal defense bar, must once again rise to the challenge of protecting it. And yet, now is also a time to be optimistic, for we have a unique opportunity to bring about progressive reforms to the criminal justice system.
As I write, the nation is beginning to digest the latest in a string of revelations concerning the surveillance practices of the U.S. government. We are learning that the tools we were assured would only be applied to protect national security have also been used by law enforcement in domestic, nonterror-related criminal cases. These reports, if confirmed, would represent a major affront to our understanding of the Fourth Amendment and the privacy protections it affords. Taken with other reports about the National Security Agency's intelligence-gathering techniques, the already growing use of domestic drones inside U.S. airspace, and the Supreme Court's ruling that DNA collection upon arrest can be constitutional, a broader picture begins to emerge: the Fourth Amendment is under assault. It is our duty as the leaders of the defense bar to prevent the privacy safeguards afforded in the Constitution from being further eroded, and indeed to fight to restore them.
The allegation that the DEA conceals the origins of evidence also raises important questions regarding discovery law. If law enforcement is not honest about how an investigation began, how can we as defense lawyers properly investigate the evidence that emerges from it? The thought is troubling and one that the defense bar must address. It is a stark reminder that, even though we marked the 50th anniversary of the Supreme Court's decision in Brady v. Maryland just a few months ago, we must remain vigilant at every turn.
Of course, Brady was not the only major Supreme Court ruling for which we celebrated a major anniversary during the past year. In March, we commemorated 50 years since the landmark decision in Gideon v. Wainwright. As was the case with Brady, looking back on the progress we've made since Gideon provided us the chance to evaluate how the nation's understanding of the right to counsel has developed. It also allowed us to reflect on the enormous room for progress that still exists.
With Gideon always on our minds, funding for the nation's indigent defense system will remain a particular concern during my presidency, and indeed has occupied much of my work during the first weeks of my term, as I described in detail in my August 23 message to the membership. Over the past several months the federal sequester has resulted in major cuts to federal defender organizations, forcing layoffs, furloughs, and the elimination of defender trainings. Meanwhile, resources to the prosecutorial function have largely remained intact. As a result, what was once a model indigent defense system is now in crisis. Funding to state and local indigent defense services remains wholly inadequate as well. We, the criminal defense lawyers of America, know that the Sixth Amendment's guarantee of counsel does not mean a defendant is entitled to a warm body and nothing else. As president I will continue to push for adequate funding for public defenders and assigned counsel, as well as more manageable caseloads, so that advocates representing indigent defendants can devote the time and energy each case deserves. We will advocate, litigate, and instigate wherever and whenever we can make a difference.
The crisis facing the indigent defense system highlights how the current economic environment can have negative effects on the criminal justice system, but these same economic conditions also have the potential to stimulate great progress. We can see the latter in the way certain states have made efforts to cut spending in areas like prisons. As the leaders of the defense bar, we must make sure that future budget cuts are focused on reforms that will improve our nation's criminal justice system. We must demonstrate to legislators and the public alike how actions that cut funding to indigent defense will only create cost increases later on, while scaling back from mass incarceration and mandatory minimum sentencing will result in real, long-term savings.
The good news is that both lawmakers and the public are showing a readiness to approach criminal justice issues in a progressive manner. A wonderful example of this can be seen in Congress's new Task Force on Overcriminalization, which is studying the issue of overcriminalization and will later issue a report detailing possible solutions. As president, I will continue to promote NACDL's efforts on overcriminalization and work to promote awareness so that momentum for change continues to grow.
The growing interest in veterans courts represents a second way in which NACDL can lead the way toward sensible criminal justice reform. I am a veteran of the Vietnam War, and thus this is an issue in which I have a great deal of personal investment. For far too many years, our nation's criminal justice system has failed its veterans. We have allowed young men and women to serve our country, but not provided them the tools to smoothly re-enter civil society. The realities of war have left long-lasting psychological and physical imprints on these veterans and it should be no surprise that many veterans have ended up on the wrong side of the law upon their return home.
Millions of men and women served our country during the wars in Iraq and Afghanistan, and if nothing is done, this new generation of veterans could bring additional overload to our courts. Thankfully, leaders throughout the country are looking at ways to prevent veterans from becoming repeatedly entangled with the criminal justice system. Our recent Executive Retreat focused on how veterans interact with the criminal justice system, and we learned much about the veterans courts around the country. We will focus on veterans again in September at our Mental Health Symposium in Denver. As the defense bar we have a moral and ethical obligation to educate our colleagues in the criminal justice system, as well as the public, on how best to address issues involving veterans. Taking a proactive and progressive approach has the potential to lower spending on courts and incarcerations and also help veterans become proud and productive members of civil society.
Likewise, I see a similar opportunity to address the vast racial disparities in the nation's criminal justice system. While the existence of racial disparities in the criminal justice system has long been common knowledge, developing concrete and attainable solutions has been more difficult. In July, with support from the Foundation for Criminal Justice and the Ford Foundation, NACDL partnered with other organizations to release a groundbreaking report on eliminating racial and ethnic disparities in the criminal justice system. This report offers detailed ideas and suggestions for how we can improve the criminal justice system. It is a blueprint for advocates and legislators to bring about the concrete changes necessary to address and eliminate these disparities. Over the next year, NACDL will continue to raise awareness on this important issue.
Sometimes it can seem as though the cards are all stacked against defense lawyers and that, as hard as we fight, prosecutors will always have more money and resources and legislators will continue to enact criminal laws without considering their full impact. But if there's one thing that Gideon and Brady taught us, it is that major victories are within our grasp. We did not become criminal defense lawyers because we wanted to do something easy. We became criminal defense lawyers because we wanted to do what's right. We must always maintain hope and perseverance. The opportunity to create change lies before us and we must seize it.
Cover photo by Bud Kraft.
The Kentucky Vietnam Veterans Memorial
The monument is dedicated to veterans who served and died in the Vietnam War.
The design concept is in the form of a large sundial. The stainless steel gnomon casts its shadow upon a granite plaza. There are 1,103 names of Kentuckians on the memorial, including 23 missing in action. Each name is engraved into the plaza, and placed so that the tip of the shadow touches his name on the anniversary of his death, thus giving each fallen veteran a personal Memorial Day.
The location of each name is fixed mathematically by the date of casualty, the geographic location of the memorial, the height of the gnomon, and the physics of solar movement. The stones were then designed and cut to avoid dividing any individual name.
Additional information about the memorial can be found at http://www.kyvietnammemorial.net/index.html.
The circle of stones around the base of the gnomon is inscribed with the verse from Ecclesiastes 3:1-8.
For everything there is a season;
And a time for every matter under heaven:
A time to be born, and a time to die;
A time to plant, and a time to pluck up what is planted;
A time to kill, and a time to heal,
A time to break down, and a time to build up;
A time to weep, and a time to laugh;
A time to mourn, and a time to dance;
A time to cast away stones, and a time to gather stones together;
A time to embrace, and a time to refrain from embracing;
A time to seek, and a time to lose;
A time to keep, and a time to cast away;
A time to rend, and a time to sew;
A time to keep silence, and a time to speak;
A time to love, and a time to hate;
A time for war, and a time for peace.  
The arrangement of names was intended to show the pattern of Kentucky casualties for the Vietnam War. The first two deaths occurred in 1962 and the last person was killed in 1975. The year of heaviest losses was 1968, which falls between noon and 1:00 p.m., Eastern Standard Time. The names of those missing in action or prisoners of war are located in front of the gnomon, where the shadow never falls.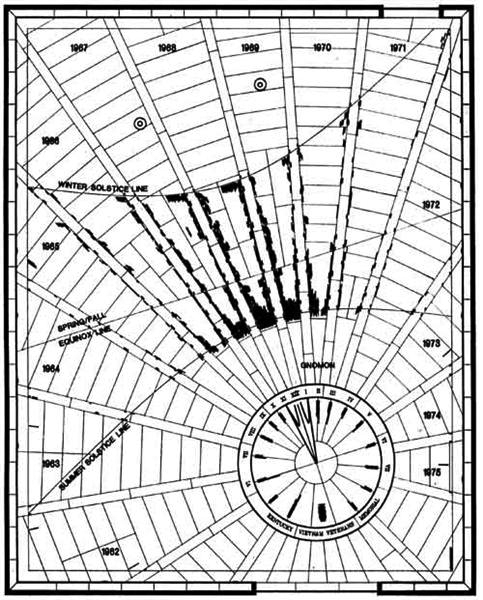 The plaza plan and name pattern 
Jerry J. Cox is a sole practitioner based in Mount Vernon, Ky., where he has practiced criminal defense law for over 40 years. He is certified as a Criminal Specialist by the National Board of Trial Advocacy (NBTA), and he served on the NBTA Board of Examiners in 2004. He is a past president of the Kentucky Association of Criminal Defense Lawyers and a Life Member of NACDL. In 2002, the Kentucky Department of Public Advocacy recognized his commitment to criminal defense by awarding him the Nelson Mandela Lifetime Achievement Award.
Jerry J. Cox
P.O. Box 1350
Mount Vernon, KY 40456
606-256-5111
jcox@kih.net