National Association of Criminal Defense Lawyers v. Executive Office for United States Attorneys and United States Department of Justice (Civil Action No. 2014-0269)
In December 2012, NACDL filed a Freedom of Information Act (FOIA) request with the Department of Justice (DOJ) seeking the disclosure of the Federal Criminal Discovery Blue Book, which was denied in February 2013, purportedly on various privilege-based and law enforcement grounds. NACDL appealed that denial in April 2013, and was denied again in June 2013. On February 21, 2014, NACDL filed a complaint against the Executive Office for United States Attorneys and United States Department of Justice in the U.S. District Court for the District of Columbia.
The Federal Criminal Discovery Blue Book was published by the DOJ's Office of Legal Education, in response to the "egregious misconduct" by the DOJ prosecutors in the case of the late Senator Ted Stevens, whose conviction was vacated after post-trial investigations revealed that prosecutors had withheld significant exculpatory evidence from the defense.
Abidor v. Napolitano (10-cv-04059-ERK) (challenging DHS policy authorizing suspicionless search and seizure of travelers' electronic devices)
On September 7, 2010, NACDL commenced a lawsuit with the ACLU challenging a U.S. Customs and Border Protection policy that authorizes searches of the contents of travelers' laptop computers and other electronic storage devices at border crossings, notwithstanding the absence of probable cause, reasonable suspicion or any indicia of wrongdoing. Filed in the Eastern District of New York, the suit seeked to enjoin future enforcement of the policy. NACDL was both a plaintiff and co-counsel in the case, which was dismissed in December, 2013 and pending reconsideration as of April, 2014.
Pleadings
Colorado Criminal Defense Bar v. Hickenlooper (10-cv-02930-JLK) (Public Defense)
Colorado Criminal Defense Bar v. Hickenlooper was an NACDL-supported lawsuit filed in the United States District Court in Colorado in December, 2010, by pro bono counsel at Morrison & Foerster LLP. The lawsuit seeked to invalidate Colorado Revised Statute § 16-7-301(4), which required a defendant to meet with a prosecutor before being assigned counsel. In Rothgery v. Gillespie County, 554 U.S. 191, 213 (2008), the United States Supreme Court held that a defendant's right to counsel under the Sixth Amendment to the United States Constitution attaches at "a criminal defendant's initial appearance before a judicial officer, where he learns the charge against him and his liberty is subject to restriction."
Colo. Rev. Stat. § 16-7-301(4) provided that, in misdemeanors, petty offenses and traffic offenses an indigent defendant's "application for appointment of counsel and the payment of the application fee shall be deferred until after the prosecuting attorney has spoken with the defendant". It then requires the prosecuting attorney to "tell the defendant any offer that can be made based on the facts as known by the prosecuting attorney at that time." It also permits the prosecuting attorney to "engage in further plea discussions about the case" and charges the prosecutor with advising the defendant that they have "the right to retain counsel or seek appointment of counsel."
Continue reading below
Coronavirus Resources
NACDL to Focus on Service and Support for Members, Clients, and Community Throughout Virus Emergency
Learn More
The Colorado Criminal Defense Bar and the Colorado Criminal Justice Reform Coalition alleged that the statute violates the Sixth and Fourteenth Amendments to the United States Constitution by deferring the appointment of counsel for indigent criminal defendants until they engage in discussions with prosecuting attorneys regarding potential plea offers.
Pleadings
More Public Defense Systemic Litigation
National Association of Criminal Defense Lawyers v. Evanston, Illinois Police Department (challenging a study on eyewitness lineups)
On February 8, 2007, citing wrongful convictions due to mistaken eyewitness identification and the urgent need to reform traditional police eyewitness identification procedures, the National Association of Criminal Defense Lawyers (NACDL), in conjunction with the MacArthur Justice Center of the Bluhm Legal Clinic at Northwestern University School of Law, filed a civil lawsuit against the Illinois police departments who participated in a controversial study of eyewitnesses and police lineups.
Pleadings
Decisions
Articles
Continue reading below
This is a sponsored ad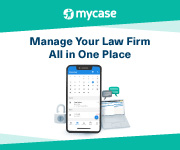 MyCase
Manage Your Law Firm All in One Place
Anderson v. State of Louisiana (Public Defense)
Anderson v. Louisiana was an NACDL-supported class action filed in September, 2004, by pro bono counsel at Baker Botts LLP and Sutherland Asbill & Brennan LLP. The suit alleged that deficiencies in the Calcasieu Parish public defense system were so extreme that defendants were being denied their right to counsel as guaranteed by the U.S. and Louisiana Constitutions. The lawsuit alleged that due to substantial under-funding, public defender clients did not have their cases properly investigated, had infrequent communication with their attorneys, and experienced extraordinary delays in the processing of their cases. The result was that defendants, innocent until proven guilty, spent months and even years in jail before they were ever given their day in court, with no meaningful legal representation to ensure their rights were upheld. The lawsuit was stayed following Hurricanes Katrina and Rita, and the Louisiana Legislature passed the Louisiana Public Defense Act funding a statewide system of indigent defense. The lawsuit was revived, however, contending that the state system still does not provide funding sufficient and that denials of the right to counsel persist in Calcasieu Parish.
Pleadings
Report
Explore keywords to find information