Search, Seize, and Extract: Challenging Law Enforcement Use of Mobile Device Forensic Tools and Technologies in Criminal Cases
Last October, a report from the technology and justice non-profit Upturn found that over 2,000 law enforcement agencies in all 50 states had purchased mobile device forensic tools (MDFTs) to search, access, and extract sensitive information from cell phones for use in criminal investigations, often without a warrant and with little to no oversight. The widespread availability and use of MDFTs allow law enforcement access to an immensely broad range of data, such as call activity, texts, photos, videos, passwords, geolocation history, and even content that has been deleted or hidden.
This webinar from May 11, 2021 featured Jennifer Granick, surveillance and cybersecurity counsel with the ACLU Speech, Privacy, and Technology Project, Jerome Greco, a public defender in the Digital Forensics Unit of the Legal Aid Society in New York City, and Harlan Yu, Executive Director of Upturn.
---
Webinar
---
Presentation Slides
Presentation Slides from Jerome Greco
Presentation Slides from Harlan Yu
---
Supplemental Materials
This is a sponsored ad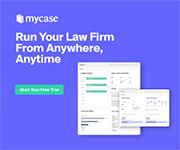 MyCase
Manage Your Law Firm All in One Place