The Supreme Court's decision in Skilling v. United States fundamentally altered the landscape of 18 U.S.C. § 1346 honest services fraud prosecutions. Cases and clients at every stage of the criminal adjudication process are affected by the Skilling decision. This bank is a compilation of post-Skilling honest services fraud filings and court decisions.

Materials in this bank are sorted below by case name and by filing type. You can access these lists by clicking the hyperlinks below. Each case has its own page containing basic case information and procedural history, attorneys' names, and all the filings we have obtained from the case.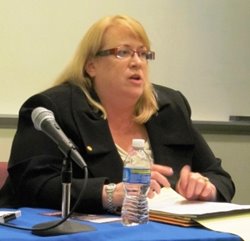 As the status of each case may change frequently, we appreciate the assistance of our members in keeping this bank current. To contribute post-Skilling filings, update case information, or provide the name of a pending case likely to involve post-Skilling litigation, please email Nathan Pysno (npysno@nacdl.org).
Pictured above: NACDL Past President Cynthia Orr discussing the impact of the Skilling decision as part of a joint NACDL-ABA program, "Judgement Day: The Supreme Court Rules On Honest Services," held in July 2010. The panel was moderated by NACDL White Collar Vice Chair Ross Garber and also included NACDL Members Abbe D. Lowell, Timothy P. O'Toole and Ellen S. Podgor.
Coronavirus Resources
NACDL to Focus on Service and Support for Members, Clients, and Community Throughout Virus Emergency
Learn More