Here are answers to the frequently asked questions about NACDL's Public Defense Scholarship Program.
Don't see an answer to your question here? Email us at: pdtscholarship@nacdl.org.
Eligibility How It Works Reimbursements Other Apply Now
---
ELIGIBILITY
Do I have to be a member of NACDL? Membership in NACDL is not required to be eligible for scholarships for registration fees. Membership is required for travel scholarships. Non-members of NACDL may be considered for travel funds, but any award is contingent upon becoming a member prior to receiving reimbursement.
i am a private attorney who accepts court-appointed cases? Scholarship funds are available to public defenders, contract counsel, and private attorneys who accept court appointments.
I am a private attorney who does not accept court-appointed cases, but need financial assistance to attend a training, can I receive assistance? NACDL offers reduced registration fees for members who need financial assistance. Contact NACDL Director of Events Akvile Athanason, at aathanason@nacdl.org, for more information about NACDL's needs-based scholarships.
Are public defender support staff such as investigators, mitigation specialist, or social workers eligible for scholarship funds? While NACDL recognizes the valuable contributions that non-attorney personnel provide, we can only provide scholarship assistance to licensed attorneys.
Are law students eligible for scholarship funds? Unfortunately, NACDL's public defense scholarship fund is only available to licensed attorneys. NACDL does offer reduced registration rates for law student members of the Association. To find out more about NACDL's student memberships please visit our membership page. To find out more about student registration fees please contact NACDL's Programs Department.
I have received a scholarship from NACDL in the past, may I get funding again? Individuals who receive scholarships may be considered for scholarships again in the future, however, as scholarship funds are limited, factors such as length of time between awards and compelling reasons to attend a program will be considered.
Can I apply for a Public Defense Scholarship to attend a non-NACDL program? Yes. In addition to NACDL-sponsored programs, any program which is open to defenders from multiple jurisdictions and is not targeted to a single state is eligible for consideration. When applying for funds for a non-NACDL program, applicants must provide information about the program with their application.
Continue reading below
This is a sponsored ad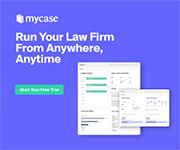 MyCase
Manage Your Law Firm All in One Place
---
HOW IT WORKS
How many scholarships are available for each program? NACDL's public defense scholarship program is grant-funded. As a result there is a limited amount of funding available. The amount of funding budgeted varies from program to program. Because funding is limited and decisions are made on a rolling basis, applicants are encouraged to apply early to maximize their opportunity to be considered for an award.
When are applications due? Applications are reviewed beginning approximately 3 months before a program starts and continues on a rolling basis. Applications received less than 3 weeks before a program's start date will not be considered. As there are limited funds available for each program, applicants are encouraged to apply early to maximize their opportunities for consideration.
How are applications evaluated? Each scholarship application is reviewed individually, with consideration given to the specific financial need of the applicant, the relevance of the program to the applicant's current work, the applicant's history of providing public defense services, as well as the other information contained within the application. Applicants are strongly encouraged to provide detailed, substantive responses to the questions contained in the application.
Must I use the public defense scholarship application form to apply? Yes. All applicants must utilize the scholarship application form in order to be considered for funding.
Where do I send my completed application? It is preferred that completed applications be submitted via email to: pdtscholarship@nacdl.org with "Scholarship Application" in the subject line. Alternatively applications may be faxed ((202) 872-8690, Attn: Public Defense Training Scholarship) or mailed (NACDL, Attn: Public Defense Training Scholarship, 1660 L St. NW, 12th Floor, Washington, DC 20036).
How do I know if my application was received? Within 2 business days (allow 3 days for federal holidays) of submitting your application, you will receive an email acknowledging receipt of your application. If you do not receive an acknowledgement email within 2 business days, please email: pdtscholarship@nacdl.org.
How will I know if I receive a scholarship? All decisions will be sent to the applicants via email. Award decisions begin approximately 3 months before a program's start date and continue on a rolling basis thereafter.
May I apply for public defense scholarship funds to more than one program? Yes, individuals may apply for multiple programs, but must submit an individual application for each program they wish to attend.
A group of people from my office would like to apply for funds, can we apply together? No. Each person must submit an individual application and decisions are made based upon the individual merit of each application.
I am a supervisor or leader of a defender office and would like to send several of my attorneys to a training program, can I apply for scholarships on their behalf? No. Each attorney must complete and submit their own, individual application. Office leaders may submit supporting documentation to supplement the application.
---
REIMBURSEMENTS ​
If I was awarded a registration scholarship to an NACDL program, do I still have to register for the program? Yes. Receiving an NACDL scholarship does not register you for the program. You must register and pay any registration fees. After attending the program, complete the reimbursement process in order to receive your funds.
My office is paying for my registration, can they be reimbursed directly? Yes. When you submit your reimbursement request, indicate that information on the reimbursement payment form.
Can my scholarship funds be advanced to allow me to pay my registration and/or travel expenses? No. This is a reimbursement program. Funds are provided following the conclusion of the program upon proof of attendance.
What documentation do I need to supply to receive my scholarship reimbursement?
After attending the program, you must provide a receipt showing payment of the registration fee, proof of attendance (signed CLE certificate, signed scholarship proof of attendance form, or other proof as identified in your award letter), and complete an online public defense training evaluation.
If you received a travel award, you must also provide hotel and/or transportation receipts showing the amount paid, dates, and location of travel.
What expenses can be reimbursed?
Registration fees and travel costs will be reimbursed up to the maximum amount of your scholarship and is limited to the actual amounts paid. Scholarship awards that exceed the actual amount paid may not be used for other expenses. Travel reimbursements are limited to expenses for lodging, airfare, and trainfare. Additional details about travel reimbursement restrictions are provided in the travel award letter.
What expenses cannot be reimbursed?
State-specific CLE fees
Membership fees
Travel and/or lodging paid through the use of points, gift certificates, or other non-monetary means
Meals
Car rental
Taxi, ride-share, or other car services
Hotel valet, laundry, health club, pay-per-view or other similar charges
Parking fees
Travel expenses for significant other or guest
Travel at any rate higher than coach/economy class fare
I attended the program and submitted my reimbursement paperwork, how long will it be before I receive payment?
Within 2 business days of submitting your reimbursement paperwork, you will receive an acknowledgement email. Allow 10 business days to receive payment. If you do not receive a timely acknowledgement or payment please contact: pdtscholarship@nacdl.org.
---
OTHER
i received a scholarship but can no longer attend the program, may I transfer those funds to another program? No. Awards are program specific. If you are no longer able to attend a program, please notify NACDL so those funds may be made available to another applicant. If you wish to be considered for another program, please submit a new application for that program.
---
If you have additional questions about NACDL's Public Defense Scholarship please email us at pdtscholarship@nacdl.org.