PRE-Registration for this event is now closed.
On Monday, May 16, 2022, join NACDL and IACDL for "A Night Under the Stars", a benefit supporting the NACDL Foundation for Criminal Justice. It will be an evening of entertainment, open bar, food and fun while we celebrate heroes of the Defense Bar.
Join us as we honor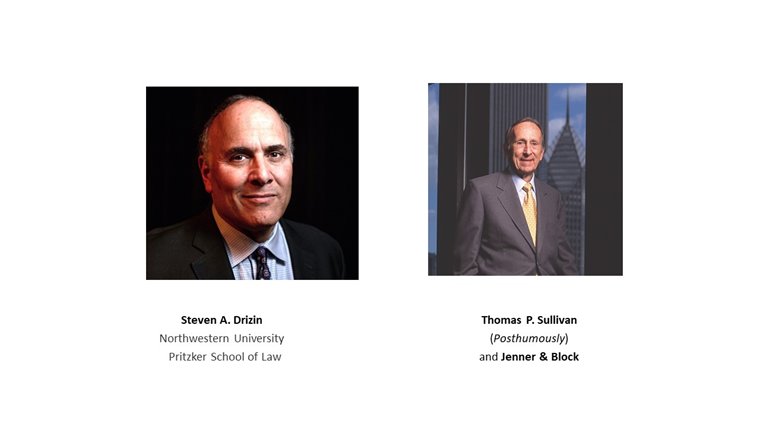 Special music by the Exoneree Band!
The evening event will be held at the beautiful home of Leonard Goodman in Lincoln Park, 3000 N. Lake Shore Drive, Chicago.
Special guests include Tom Sullivan's family and colleagues from Jenner & Block, Steve's friends and colleagues as well as Laura Nirider, Dean Strang, Jerry Buting, Kathy Stilling, Lisa Wayne, Barry Scheck and many others.
This special rate is only offered to those who have signed up for the NACDL CLE/Seminar in Chicago. Ticket information is below. For regular sponsorship, please visit nfcj.org/chigao and for more information, please contact Clay Braswell, cbraswell@nacdl.org or 202-465-7641.
The NFCJ is a 501(c)(3) nonprofit corporation. Sponsorship and ticket purchases, minus any tangible benefit, are tax-deductible as allowed by law.
Location information: For parking, the Goodman Residence is located at 3000 N. Lake Shore Drive on the northwest corner of Lake Shore Drive and Wellington Avenue (sometimes GPS thinks it is 320 W. Wellington Avenue). It is easily accessible through a variety of CTA bus lines and via cab or ride-sharing services. Street parking is hard to come by so if you drive, the closest public lot is the St. Joseph Hospital self-park parking lot located one block south on the southwest corner of Lake Shore Drive and Oakdale Ave.
About the honorees:
Thomas (Tom) Sullivan was a defense attorney for most of his career, Tom co founded a pro bono program and started representing indigent defendants charged with violent crimes. He became a partner at Jenner and Block in 1963 and continued this work until being appointed as US Attorney for the Northern District of Illinois by President Carter and served for four years.
He argued many cases in the Illinois Supreme Court, the US Supreme Court, and many federal Courts of Appeal. He served as co-chair of Illinois Governor George Ryan's Commission on Capital Punishment (2000-02) and the Illinois General Assembly;s Capital Punishment Reform Study Committee, whose reports recommending sweeping changes to Illinois homicide law and procedure were influential in Governor Ryan'ss decision in 2003 to clear Illinois' death row and Governor Quinn's signing the bill abolishing Illinois' death penalty in 2011. Over the last 20 years of his career, he dedicated his time to pro bono representation including representing prisoners incarcerated at Guantanamo Bay, Cuba.
A true partner, Jenner & Block has co-authored more than 8 briefs with NACDL within the past few years. Jenner has provided thousands of hours of pro bono support to NACDL initiatives that help those serving overly harsh sentences seek relief through clemency, compassionate release, or expungement. In addition, Jenner has generously supported the NACDL Foundation for Criminal Justice throughout the years and remains a trusted friend and ally.
Steven A. Drizin is the William M. Trumbull Clinical Professor of Law and Co-Director for the Center on Wrongful Convictions at the Northwestern Pritzker School of Law where he has been on the faculty since 1991. He served as the Legal Director of the Clinic's renowned Center on Wrongful Convictions from March 2005 to September 2013. At the Center, Professor Drizin's research interests involve the study of false confessions and his policy work focuses on supporting efforts around the country to require law enforcement agencies to electronically record custodial interrogations. Drizin co-founded the Center on Wrongful Convictions of Youth (CWCY) in 2008, the first innocence organization to focus on representing defendants who were only teenagers when they were wrongfully convicted. Drizin and former student Laura Nirider, who co-directs the CWC, represent Brendan Dassey, a central figure in Netflix's smash docuseries Making a Murderer.
Prior to joining the Center on Wrongful Convictions, Drizin was the Supervising Attorney at the Clinic's Children and Family Justice Center where he built a reputation as a national expert on juvenile justice related issues. He was a leader in the successful effort to outlaw the juvenile death penalty and co-wrote an amicus brief in Roper v. Simmons, the United States Supreme Court's decision striking down the juvenile death penalty as unconstitutional. In August 2005, Drizin received the American Bar Association's Livingston Hall Award for outstanding dedication and advocacy in the juvenile justice field. Drizin received his BA with Honors from Haverford College in 1983 and his JD from Northwestern University School of Law in 1986 where he was the Editor-in-Chief of The Journal of Criminal Law and Criminology.
About the NACDL Foundation for Criminal Justice
The NFCJ supports the charitable work of NACDL, and includes the following:
Support for the public defense bar through training and technical assistance and scholarships.
NACDL's Amicus program which has supported over 30 briefs in 2021;
Minority Summer Fellowships to promote diversity in the criminal defense bar and multi-faceted programs to address systemic racial and ethnic disparities;
Pro bono clemency and compassionate release programs (Return to Freedom Projects) to secure reduction of excessive sentences through clemency, compassionate release and expungement. Programs include the recently launched Cannabis Justice Initiative, the Federal Trial Penalty project and the COVID Compassionate Release program (to name a few);
NACDL's Fourth Amendment Center protecting privacy rights in the digital age, including offering direct assistance to defense lawyers handling cases involving new surveillance tools, technologies and tactics that infringe on the constitutional rights of people in America
The Full Disclosure Project which aims to disrupt the culture of secrecy that systematically and pervasively shields law enforcement misconduct by changing police secrecy laws and empowering the defense community to track police misconduct.
Various strategic initiatives to promote sentencing reform including collaborate state efforts supported by our local affiliates through NACDL's State Criminal Justice Network;
A major national effort to combat the tyranny of the trial penalty, including the publication of The Trial Penalty: The Sixth Amendment Right to Trial on the Verge of Extinction and How to Save It and the production of a documentary, The Vanishing Trial; direct support for New York State Association of Criminal Defense Lawyers Trial Penalty Task Force; and a Federal Trial Penalty Clemency Project.
NACDL's numerous studies, reports, and recommendations, including the recently released report Abortion in America: How Legislative Overreach Is Turning Reproductive Rights Into Criminal Wrongs. This report has launched a greater NACDL initiative which includes partnerships with likeminded organizations to combat punitive laws that continue to develop across the country.
Code of Conduct
NACDL endeavors to foster a working, learning, and social environment free of harassment, discrimination, intimidation, and insult. To that end, NACDL has adopted a Code of Conduct for Affiliated Persons that applies to all attendees and participants of any kind at all NACDL sponsored events.
Learn More