Brief filed: 11/13/2007
Documents
Begay v. United States
United States Supreme Court; Case No. 06-11543
Question Presented
Is felony driving while intoxicated a "violent felony" for purposes of the Armed Career Criminal Act?
Argument(s)
This is a sponsored ad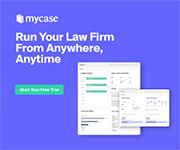 MyCase
Manage Your Law Firm All in One Place
Author(s)
Marlo P. Cadeddu, Dallas, TX. On brief, Peter Goldberger, Ardmore, PA and Prof. Barbara Bergman, Univ. of New Mexico School of Law, Albuquerque.