Brief filed: 06/25/2009
Documents
Bloate v. United States
United States Supreme Court; Case No. 08-728
Prior Decision
Case below, 534 F.3d 893 (8th Cir. 2008).
Argument(s)
The Speedy Trial Act advances the public's interest in an efficient and fair criminal justice system, as Congress intended, and the Court should reject any expansion of the Act's automatic exclusions that threatens achievement of the important purposes and significant benefits of the Act.
Coronavirus Resources
NACDL to Focus on Service and Support for Members, Clients, and Community Throughout Virus Emergency
Learn More
This is a sponsored ad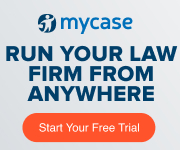 MyCase
Manage Your Law Firm All in One Place
Author(s)
Ketanji Brown Jackson, Morrison & Foerster LLP, Washington, DC.