Brief filed: 03/05/2007
Documents
Brendlin v. California
United States Supreme Court; Case No. 06-8120
Prior Decision
Lower court opinion, 136 P.3d 845 (Cal. 2006), cert. granted, January 19, 2007.
Question Presented
Whether a passenger in a vehicle subject to a traffic stop is thereby "detained" for purposes of the Fourth Amendment, thus allowing the passenger to contest the legality of the traffic stop; arguing that a vehicle passenger is "seized" until he receives some objective indication that he is free to leave and it is safe for him to do so.
Argument(s)
This is a sponsored ad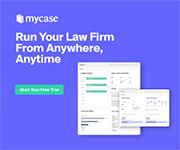 MyCase
Manage Your Law Firm All in One Place
Author(s)
Jon Nuechterlein, et al., Wilmer Hale, Washington, DC.