Brief filed: 02/02/2009
Documents
District Attorney's Office v. Osborne
United States Supreme Court; Case No. 08-6
Prior Decision
Case below, 521 F.3d 1118 (9th Cir. 2008).
Argument(s)
Due process prohibits detention of a person who proves he is actually innocent of a crime, and the Due Process Clause establishes a post-conviction right to DNA evidence to prove an actual innocence claim.
Coronavirus Resources
NACDL to Focus on Service and Support for Members, Clients, and Community Throughout Virus Emergency
Learn More
This is a sponsored ad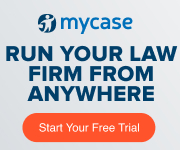 MyCase
Manage Your Law Firm All in One Place
Author(s)
Walter Dellinger, Irving L. Gornstein, Shannon M. Pazur and Kathryn E. Tarbert, O'Melveney & Myers LLP, Washington, DC.