Brief filed: 09/17/2009
Documents
Echols v. Arkansas
Arkansas Supreme Court; Case No. 08-1493
Prior Decision
On appeal from Craighead County Circuit Court on Change of Venue from Crittenden County Circuit Court (unreported), Circuit Court No. CR 93-450a (Hon. David Burnett, Judge).
Argument(s)
Due to the potent nature of confession evidence, the Misskelley confession strongly influenced the jury's verdict, even though it was not admitted at trial. Standard police interrogation tactics have been shown to induce false confessions, particularly in juveniles and the mentally impaired. Even while the Misskelley confession strongly influenced the jury's decision to convict, it bears all the hallmarks of a false confession.
Coronavirus Resources
NACDL to Focus on Service and Support for Members, Clients, and Community Throughout Virus Emergency
Learn More
This is a sponsored ad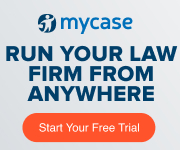 MyCase
Manage Your Law Firm All in One Place
Author(s)
Laura H. Niridir and Steven A. Drizin, Center on Wrongful Convictions of Youth at Northwestern University School of Law; Barbara Bergman, Amicus Committee Co-Chair, National Association of Criminal Defense Lawyers.