Brief filed: 07/23/2009
Documents
Graham v. Florida; Sullivan v. Florida
United States Supreme Court; Case No. 08-7412 & 08-7621
Prior Decision
Cases below, 982 So.2d 43 (Fla.App.1 Dist. 2008) & 987 So.2d 83, unpublished (Fla.App.1 Dist. 2008).
Argument(s)
Individuals younger than age 18 at the time of the offense should not be subject to life without parole sentences, as such sentences violate the Eighth Amendment.
Coronavirus Resources
NACDL to Focus on Service and Support for Members, Clients, and Community Throughout Virus Emergency
Learn More
This is a sponsored ad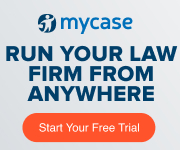 MyCase
Manage Your Law Firm All in One Place
Author(s)
Vincent M. Southerland, John Payton, Debo P. Adegbile, Christina Swarns, and Jin Hee Lee, NAACP Legal Defense and Educational Fund, Inc.; Charles J. Ogletree, Jr. and Robert J. Smith, Charles Hamilton Houston Institute for Race & Justice; Jeffrey L. Fisher, National Association of Criminal Defense Lawyers.