Brief filed: 06/03/2009
Documents
Johnson v. United States
United States Supreme Court; Case No. 08-6925
Prior Decision
Case below, 528 F.3d 1318 (11th Cir. 2008).
Argument(s)
Under the Rule of Lenity, ambiguities in the prohibitions imposed by criminal statutes are construed in favor of the defendant to foster fairness and uniformity in the administration of the criminal justice system. The Rule of Lenity precludes application of the physical force element of the ACCA to the conduct – battery involving de minimis physical conduct – in this case.
Coronavirus Resources
NACDL to Focus on Service and Support for Members, Clients, and Community Throughout Virus Emergency
Learn More
This is a sponsored ad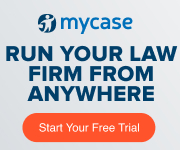 MyCase
Manage Your Law Firm All in One Place
Author(s)
Michael C. Small, Patricia A. Millet, and Joel R. Meyer, Akin Gump Strauss Hauer & Feld LLP, Los Angeles, CA.