Brief filed: 04/29/2009
Documents
Kansas v. Ventris
United States Supreme Court; Case No. 07-1356
Prior Decision
Opinion below, 176 P.3d 920 (Kan. 2008).
Argument(s)
Respondent's voluntary statement to jailhouse informant planted in his cell by law enforcement, concededly in violation of the Sixth Amendment, was admissible to impeach his inconsistent testimony at trial.
Coronavirus Resources
NACDL to Focus on Service and Support for Members, Clients, and Community Throughout Virus Emergency
Learn More
This is a sponsored ad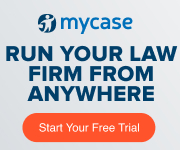 MyCase
Manage Your Law Firm All in One Place
Author(s)
Amy Howe and Kevin K. Russell, Howe & Russell P.C., Washington, D.C.; Thomas C. Goldstein, Akin, Gump, Strauss, Hauer & Feld, LLP, Washington, D.C.; and Pamela S. Karlan and Jeffrey L. Fisher, Stanford Law School Supreme Court Litigation Clinic, Stanford, CA.