Brief filed: 05/09/2016
Documents
Manuel v. City of Joliet, Illinois
United States Supreme Court; Case No. 14-9496
Prior Decision
Decision below No. 14-1581 (7th Cir. Dec. 28, 2015).
Argument(s)
The Fourth amendment prohibits unreasonable pretrial seizures, even after initiation of legal process. Decades of experience confirm that recognizing malicious prosecution claims based on the Fourth Amendment does not chill legitimate law enforcement conduct. This Court can provide direction to lower courts by clarifying that malice is not an element of a § 1983 claim grounded on the Fourth Amendment and by adopting Justice Ginsburg's view of continuing seizure.
This is a sponsored ad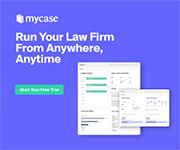 MyCase
Manage Your Law Firm All in One Place
Author(s)
John P. Elwood and Joshua S. Johnson, Vinson & Elkins LLP, Washington, DC; David T. Goldberg, Donahue & Goldberg, LLP, New York, NY; Daniel R. Ortiz, University of Virginia School of Law Supreme Court Litigation Clinic, Charlottesville, VA; Jeffrey T. Green, Washington, DC.