Brief filed: 03/04/2011
Documents
McNeill v. United States
United States Supreme Court; Case No. 10-5258
Prior Decision
Decision below 598 F.3d 161 (4th Cir. 2010).
Question Presented
Whether the plain meaning of "is prescribed by law" [note present tense] which ACCA uses to define a predicate "serious drug offense" requires a federal sentencing court to look to the maximum penalty prescribed by current state law for a drug offense at the time of the instant federal offense, regardless of whether the state has made that current sentencing law retroaction.
Argument(s)
The Armed Career Criminal Act (ACCA) applies to a person who "violates [18 U.S.C.] section 922(g)" and "has three previous convictions . . . for a violent felony or a serious drug offense." 18 U.S.C. §924(e)(1). A "serious drug offense" is defined in relevant part as "an offense under State law . . . for which a maximum term of imprisonment of ten years or more is prescribed by law." The Fourth Circuit Cour of Appeals affirmed the district court's classification of petitioner's North Carolina drug offenses as "serious drug offenses" under the ACCA, even though at the time of petitioner's federal sentencing, North Carolina's current sentencing law did not prescribe a maximum term of imprisonment of at least 10 years for those drug offenses.
The text and structure of the ACCA require consideration of the "seriousness" of a drug offense at the time of the federal firearms violation; the government's rule would create unnecessary complexity and uncertainty.
Coronavirus Resources
NACDL to Focus on Service and Support for Members, Clients, and Community Throughout Virus Emergency
Learn More
This is a sponsored ad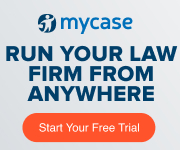 MyCase
Manage Your Law Firm All in One Place
Author(s)
Jonathan D. Hacker and Meaghan McLaine VerGow, O'Melveney & Meyers LLP, Washington, D.C.