Brief filed: 11/21/2016
Documents
Nelson v. Colorado
United States Supreme Court; Case No. 15-1256
Prior Decision
Cases below People v. Madden, 364 P.3d 866 (Colo. 2015) and People v. Nelson, 362 P.3d 1070 (Colo. 2015).
Argument(s)
Colorado's extraordinary requirements for the return of monetary exactions violate due process. The Colorado statute is inconsistent with the common-law practice of restoring exactions imposed upon conviction when the conviction is later invalidated. Under the decision below, criminal defendants whose convictions are reversed would be in a worse position than taxpayers subjected to an unlawful tax. The Colorado law's imposition of difference procedural burdens on similarly-situated defendants confirms its unconstitutionality.
This is a sponsored ad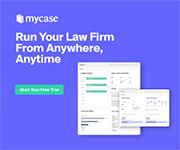 MyCase
Manage Your Law Firm All in One Place
Author(s)
Andrew J. Pincus, Charles A. Rothfeld, Michael B. Kimberly, and Paul W. Hughes, Mayer Brown LLP, Washington, DC; Barbara Bergman, James E. Rogers College of Law, University of Arizona, Tucson, AZ; Eugene R. Fidell, Yale Law School Supreme Court Clinic, New Haven. CT.