Brief filed: 02/02/2009
Documents
People v. Weaver
New York Court of Appeals;
Prior Decision
Case below 52 A.D.3d 138 (3rd Dept. 2008).
Argument(s)
The decision of the Appellate Division, Third Department should be reversed. To secure both First and Fourth Amendment rights, as well as liberty and privacy rights under New York State Constitution, law enforcement should be required to secure a warrant based on probable cause prior to secretly installing GPS transmitter on a person's vehicle and undertaking such surveillance.
Coronavirus Resources
NACDL to Focus on Service and Support for Members, Clients, and Community Throughout Virus Emergency
Learn More
This is a sponsored ad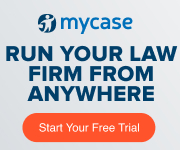 MyCase
Manage Your Law Firm All in One Place
Author(s)
Susan J. Walsh, Moskowitz, Book & Walsh, LLP, New York, NY; Norman L. Reimer, Exec. Dir., NACDL, Washington, DC; Ivan J. Dominguez, Asst. Dir. Public Affairs & Communications, NACDL, Washington, DC.