Brief filed: 12/13/2016
Documents
Russo v. United States
2nd Circuit Court of Appeals; Case No. 16-2118
Prior Decision
Decision below Case No. 15-CV-48 (E.D.N.Y. January 1, 2015).
Argument(s)
It is crucial that avenues remain open to assert claims based on newly discovered evidence of innocence. Innocent convicts face enormous challenges in uncovering and litigating new evidence of innocence. The Section 2255 Savings Clause requires meaningfully adequate consideration of newly discovered evidence of innocence. The Court should eliminate its requirement that motions for authorization to file successive habeas petitions be limited to the Court's pre-printed form.
Coronavirus Resources
NACDL to Focus on Service and Support for Members, Clients, and Community Throughout Virus Emergency
Learn More
This is a sponsored ad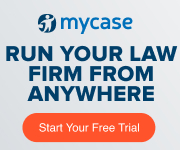 MyCase
Manage Your Law Firm All in One Place
Author(s)
Professor Brandon Garrett, University of Virginia School of Law, Charlottesville, VA; Bryce Benjet and Vanessa Potkin, Innocence Project, New York, NY.