Brief filed: 07/19/2012
Documents
Simon v. City of New York
2nd Circuit Court of Appeals; Case No. 11-5386
Question Presented
Under Article 620 of the New York Criminal Procedure Law, a proceeding to adjudge a person a material witness is initiated by an ex parte application setting forth reasonable cause to believe an individual who possesses material information will not be responsive to a subpoena from the court or a grand jury. If the court is satisfied by the application, it may order the witness to appear for a hearing, or if convinced that the witness would not appear, it may "issue a warrant addressed to a police officer, directing such officer to take such prospective witness into custody . . . and to bring him before the court forthwith" for a material witness hearing. NYCPL 620(b). The statute does not permit a material witness to be detained for interrogation or any other purpose. Instead of being brought before the court "forthwith," the plaintiff was detained for two days at the Queen's County District Attorney's Office and sued in federal court for false imprisonment.
Argument(s)
The district court incorrectly focused on the prosecutor's absolute immunity for applying for the material witness warrant, rather than the plaintiff's principle claim that the improper execution of the warrant caused her injury. It would be inappropriate to recognize absolute immunity where the prosecutor, and the detectives acting jointly with him, violated the terms of the warrant and the authorizing statute by detaining the witness for two days for interrogation and never taking her to court.
This is a sponsored ad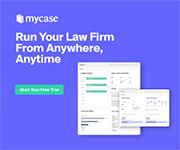 MyCase
Manage Your Law Firm All in One Place
Author(s)
Joel B. Rudin, New York, NY, Richard D. Willstatter, White Plains, NY, Lee Gelernt and Esha Bhandari, ACLU Foundation, New York, NY, and Katherine Desmoreau, ACLU Foundation, San Francisco, CA.