Brief filed: 11/04/2009
Documents
United States v. Comstock
United States Supreme Court; Case No. 08-1224
Question Presented
Whether Congress had the constitutional authority to enact 18 U.S.C. 4248, which authorizes court-ordered civil commitment by the federal government of (1) "sexually dangerous" persons who are already in the custody of the Bureau of Prisons, but who are coming to the end of their federal prison sentences, and (2) "sexually dangerous" persons who are in the custody of the Attorney General because they have been found mentally incompetent to stand trial. Brief argues that evidentiary standards and lack of procedural safeguards render the civil commitment provisions of the Adam Walsh Act, 18 U.S.C. §4248, violate due process and also that the statute is void for vagueness.
Argument(s)
Coronavirus Resources
NACDL to Focus on Service and Support for Members, Clients, and Community Throughout Virus Emergency
Learn More
This is a sponsored ad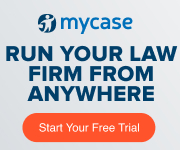 MyCase
Manage Your Law Firm All in One Place
Author(s)
Jeffrey T. Green, et al., Sidley Austin, Washington, D.C.