Brief filed: 10/17/2006
Documents
United States v. Heredia
9th Circuit Court of Appeals; Case No. 483 F.3d 913
Question Presented
Whether the statutory requirement of the Controlled Substances Act, 21 U.S.C. § 841(a)(1), that criminalizes the act of "knowingly ... possess[ing] with intent to manufacture, distribute, or dispense, a controlled substance" can be extended to a defendant's "deliberate ignorance" of possessing drugs.
Argument(s)
Knowledge, in a criminal statute, is actual knowledge, not what one ought to have known or could have learned.
Coronavirus Resources
NACDL to Focus on Service and Support for Members, Clients, and Community Throughout Virus Emergency
Learn More
This is a sponsored ad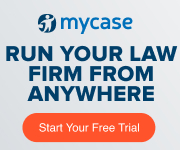 MyCase
Manage Your Law Firm All in One Place
Author(s)
Kenneth W. Starr, et al. Kirkland & Ellis LLP, Washington, DC.