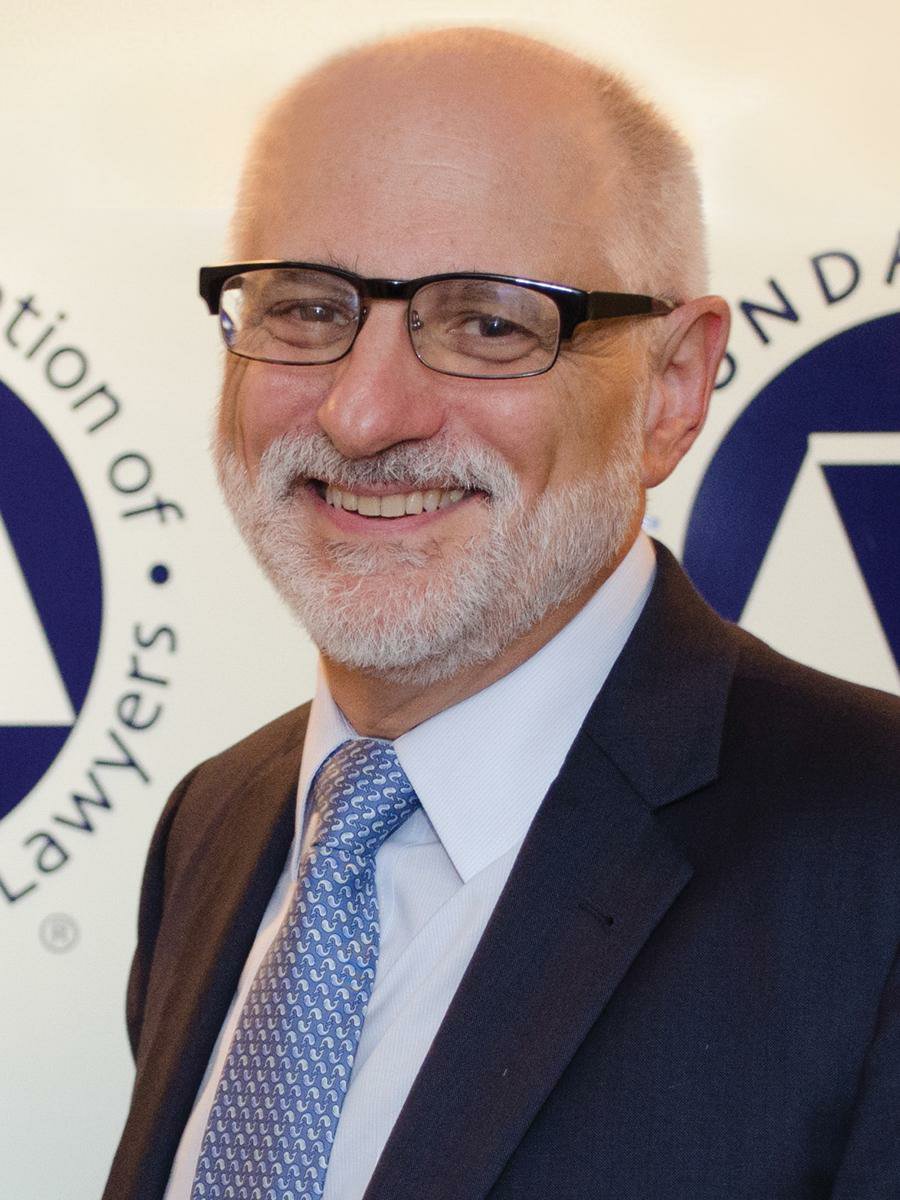 Norman L. Reimer is Senior Policy Consultant at the National Association of Criminal Defense Lawyers (NACDL). Prior to serving in this role, he was the Association's Executive Director from 2006 until 2021. As executive director, Norman Reimer led the professional staff based in Washington, D.C. serving NACDL's approximately 9,000 direct members and 90 local, state and international affiliate organizations with up to 40,000 members.
Prior to assuming this position Norman Reimer practiced law for 28 years, most recently at Gould Reimer Walsh Goffin Cohn LLP. A criminal defense lawyer throughout his career, with expertise in trial and appellate advocacy in both state and federal jurisdictions, Mr. Reimer is also a recognized leader of the organized bar, and a spokesperson in behalf of reform of the legal system.
In May 2004, Norman Reimer assumed the presidency of the New York County Lawyers' Association (NYCLA), one of the nation's largest and most prestigious metropolitan bar associations. In his work at NYCLA, Mr. Reimer played a pivotal role in undertaking litigation against the State and City of New York that upheld the right of a bar association to sue on behalf of indigent litigants and resulted in a judicial decision declaring New York's under-funding of indigent defense services unconstitutional. (NYCLA v. New York, 294 A.D.2d 69 (1st Dept. 2002); NYCLA v. New York, 196 Misc. 2d 761 (N.Y. Sup. Ct. 2003). In recognition of this effort the New York County Lawyers' Association received the ABA's Harrison Tweed Award in 2003.
Mr. Reimer also played a leading role in a successful effort to persuade the American Bar Association to adopt a policy calling for the mandatory recording of all custodial interrogations and a successful effort to persuade the New York State Bar Association to support a moratorium on death penalty prosecutions. Norman Reimer has also led NYCLA's efforts in support of the independence of the judiciary, expanding access to justice, preservation of habeas corpus and judicial selection reform. During his tenure as President, Mr. Reimer guided the Association to its first operating surplus in more than a decade and launched a Centennial Capital Campaign. Key initiatives under his leadership included major conferences and task forces to study and reform the Housing, Criminal and Family Courts, with special emphasis on efforts to ameliorate the collateral consequences of criminal convictions and to secure a right to counsel for indigent litigants facing eviction proceedings.
In addition to his role at NYCLA, Norman Reimer has served as a delegate to both the American Bar Association House of Delegates and the New York State Bar Association House of Delegates. He formerly served as Chair of the Central Screening Committee of the Assigned Counsel Plan, Appellate Division, First Department, overseeing the qualification of several hundred attorneys who are certified to represent indigent criminal defendants by court assignment in the New York State courts. In addition, Mr. Reimer served on the federal Criminal Justice Panels for the Southern District of New York, where he was certified to represent criminal defendants in felony prosecutions, capital prosecution and habeas corpus proceedings. He was also certified by the New York State Capital Defender to handle death penalty prosecutions in the New York State courts.
Mr. Reimer's notable appellate achievements include landmark decisions in search and seizure law (People v. Millan, 69 N.Y.2d 514 (1987); People v. Torres, 74 N.Y.2d 224 (1989); People v. Garrett and Angus, 256 A.D. 2d 588 (2d Dept. 1998)), habeas corpus (Figueroa v. Portuoundo, 96 F. Supp. 2d 256 (S.D.N.Y. 1999) and Shiwlochan v. Portuondo, 345 F. Supp. 2d 242 (2004)) and international extradition (In Re Ribaudo, U.S. Dist. Court LEXIS 1456 (S.D.N.Y. 2004)). He was also a principal author of NACDL's amicus brief in People v. Weaver, 12 N.Y.3d 433 (2009), a landmark decision holding that unlimited GPS monitoring is unconstitutional in the absence of a search warrant. Mr. Reimer also assisted in an amicus brief in Caperton v. A.T. Massey Coal Co., 556 U.S. 868 (2009), in which the United States Supreme Court held that the Due Process Clause compels judicial recusal where a judge has received substantial campaign contributions from a party. In 2010, Norman Reimer co-authored an amicus brief urging New York State's high court to recognize a prospective cause of action to redress systemic deficiency in that state's indigent defense system. Hurrell-Harring v. State, 15 N.Y.3d 8 (2010). In 2011, he co-authored an amicus brief in United States v. Jones, in which the Supreme Court will determine whether warrantless GPS monitoring of individual by law enforcement without any spatial or temporal limitation is permissible. He also co-authored an amicus brief in Shelton v. Sec't, Dept of Corrections, challenging Florida's elimination of a mens rea requirement for all drug possession and distribution charges.
Norman Reimer served as an Adjunct Professor of Law at New York Law School, where he taught Trial Practice from 1990 until 2004. He earned both his undergraduate and juris doctor degrees at New York University. Mr. Reimer is a recipient of the prestigious Champion of Indigent Defense Award, presented by the National Association of Criminal Defense Lawyers in 2003 and the Gideon Award presented by the New York State Association of Criminal Defense Lawyers in 2002. In 2005 Mr. Reimer and the New York County Lawyers' Association were honored by the New York City Council for their dedication to expanding access to justice to all persons without regard to economic status. In 2007, Norman Reimer received the Robert Louis Cohen Award for Profession Excellence from the New York Criminal Bar Association and the David S. Michaels Memorial Award for Courageous Efforts in Promoting Integrity in the Criminal Justice System from the New York State Bar Association.