Brief filed: 05/10/2016
Documents
Caroni v. United States
United States Supreme Court; Case No. 15-1292
Prior Decision
Case below U.S. v. Dileo, 625 Fed.Appx. 464 (11th Cir. Sept. 1, 2015).
Argument(s)
This Court should grant review to clarify when harmless error will justify denial of the right to a jury determination on a contested essential element.
Coronavirus Resources
NACDL to Focus on Service and Support for Members, Clients, and Community Throughout Virus Emergency
Learn More
This is a sponsored ad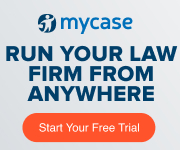 MyCase
Manage Your Law Firm All in One Place
Author(s)
Terrance G. Reed, Lankford & Reed PLLC, Alexandria, VA; Jeffrey T. Green, Washington, DC.