For people who were sentenced in D.C. Superior Court, please use the D.C. form.
** Haga clic aquí para las preguntas en español. **
The Compassionate Release Clearinghouse COVID-19 Project is for people serving federal sentences who are terminally ill, elderly, or have a preexisting health condition that makes them vulnerable to COVID-19. Preexisting conditions are identified by the Centers for Disease Control and Prevention.
We are working to recruit pro bono lawyers to assist with as many cases as we can. Pro bono means they will not charge you.
To apply for the Clearinghouse, please answer the questions in the form linked below. We may contact you for additional information to see if we can help you. We may also send you information about Federal Defender resources.
This is a sponsored ad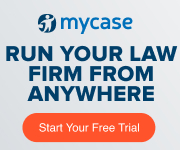 MyCase
Manage Your Law Firm All in One Place