Today, more than 95% of all cases are resolved through plea and without trial. This shift is eroding the fundamental balance our judicial process is meant to strike. It cannot be attributed to a single cause and is not restricted to a particular region or case type. Reversing this trend requires judges, court administrators, prosecutors, defense attorneys, local and state governments, and the community to work together to examine and change their criminal justice infrastructure and culture.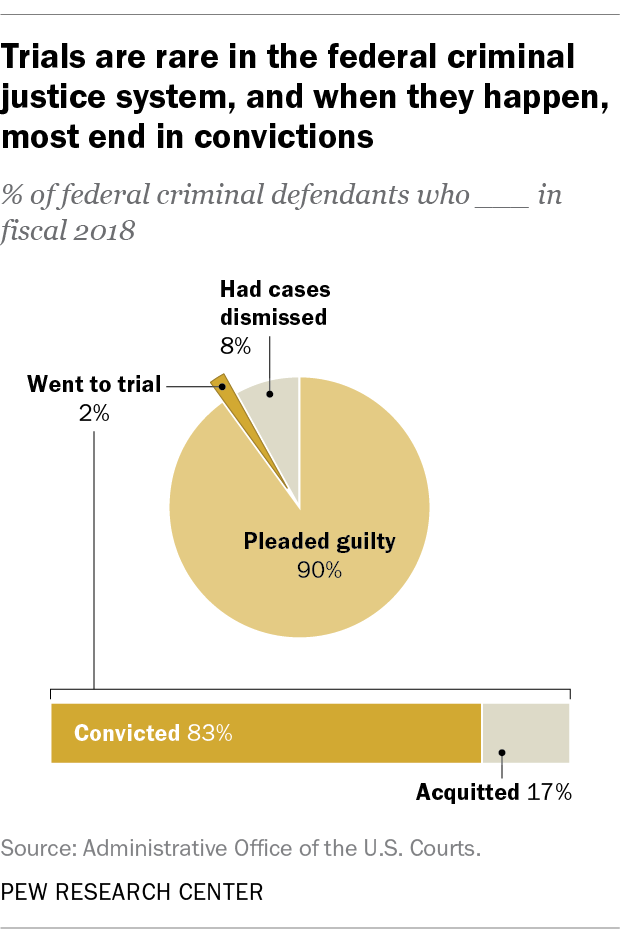 ---
VANISHING TRIAL RESOURCES
REPORTS AND STUDIES
NEWS ARTICLES
VIDEOS, BLOGS, PODCASTS
The Vanishing Trial
On June 15, 2020, NACDL and FAMM hosted a virtual panel discussion about "The Vanishing Trial" documentary. The panelists included Sakira Cook, The Leadership Conference on Civil and Human Rights; Brittany K. Barnett, Buried Alive Project; Clark Neily, The Cato Institute; and Norman L. Reimer, NACDL. View the discussion below.
On June 29, 2020, New Yorkers United for Justice hosted a virtual panel discussion of the upcoming FAMM and NACDL film "The Vanishing Trial." Panelists included Robert Rose, a formerly incarcerated advocate; Susan Walsh, New York State Association of Criminal Defense Lawyers; Jared Trujillo, The Legal Aid Society; and Khalil Cumberbatch, New Yorkers United for Justice. Featuring Norman Reimer, NACDL; and Molly Gill, FAMM. View the entire discussion below.
Trial Penalty Report Launch Event -- July 10, 2018
At a special event at the National Press Club in Washington, DC, on July 10, 2018, NACDL released The Trial Penalty: The Sixth Amendment Right to Trial on the Verge of Extinction and How to Save It. The keynote speaker at the event was Hon. John Gleeson (Ret.). In addition to NACDL leadership including NACDL Immediate Past President Rick Jones, NACDL Past President Barry Pollack, and NACDL Executive Director Norman L. Reimer, representatives from numerous leading groups in the criminal justice reform movement from across the political spectrum delivered remarks agreeing that the trial penalty in the American criminal justice system is a serious problem that needs to be addressed. Those groups included the Cato Institute, Human Rights Watch, Right on Crime, Texas Public Policy Foundation, Families Against Mandatory Minimums (FAMM), the ACLU, the Charles Koch Institute, the Innocence Project, and Fair Trials International. Pro Bono Counsel Don Salzman from the firm of Skadden, Arps, Slate, Meagher & Flom LLP also spoke, as did New York criminal defense attorney Frederick P. Hafetz. Due to conflicts, the ACLU and FAMM sent their remarks. The entire 90-minute event is available below.
---
Prosecutors: Last Week Tonight with John Oliver (HBO)
John Oliver explains how prosecutors use, or in some cases misuse, their power within our criminal justice system and why it's important to know whether or not your district attorney is a dog.
Explore keywords to find information