Access to The Champion archive is one of many exclusive member benefits. It's normally restricted to just NACDL members. However, this content, and others like it, is available to everyone in order to educate the public on why criminal justice reform is a necessity.
This has been a severely challenging year for individuals, law offices, and bar organizations. Health concerns, death of loved ones, economic disruption, the necessary closure of most courts, work-from-home orders, and the like have created strains on us all. Unfortunately, these hardships may continue for some time, as it looks like the United States may be entering a third wave of COVID-19 — the worst one yet. Throughout this pandemic, NACDL has nimbly shifted its operations so that it could continue uninterrupted to provide first-rate member services and zealously work for a better criminal law system. No matter what happens with COVID-19, NACDL will continue to do so.
Here are a few ways that NACDL has pivoted to help you and your clients.
First, in April, NACDL created a COVID-19 task force to focus on court reopening issues. The task force was comprised of the then-president, the then-first vice president, the executive director, and several hardworking board members. In other words, the work of the task force was a major priority. In early June, NACDL published the task force's report, Criminal Court Reopening and Public Health in the COVID-19 Era. The report argues that jury trials (in most circumstances) must be canceled until a vaccine is available because any of the proposed alternatives or accommodations would compromise our clients' constitutional rights. The report has been downloaded more than 2,000 times and used in litigation in a number of jurisdictions where courts have attempted to prematurely resume jury trials.
Second, the COVID-19 task force has now begun phase two of drafting a series of model pleadings that can be used to oppose a jury trial setting. These model motions will include discovery requests to find out what, if any, steps have been taken to ensure a safe courtroom setting. They will also outline attacks on procedures that would compromise our clients' constitutional rights. These model pleadings will be available on the website very soon.
Third, NACDL has established a coronavirus resources page on its website. The NACDL public affairs and communications staff created this page immediately after court closures began in mid-March. The goal was to provide useful information to you, to the larger criminal justice community, and to the public regarding the impact of COVID-19 on courts. The page has hosted more than 32,000 visits. The materials include a model motion for bond reconsideration due to COVID-19, which was generously shared by the Federal Defender of New York and has been downloaded over 1,900 times. Our communications team has done, and will continue to do, a magnificent job of updating and curating the resource page.
Fourth, we held our first virtual gala in September. NACDL is and remains financially sound. However, a number of our projects rely on funding from this annual event. None of us want to scale back the NACDL projects that provide such great work for our clients and for the cause of criminal law reform. Instead of canceling the fundraising dinner, the planning committee converted the in-person event into a virtual gala.
While I hope that we will never again have a virtual gala, it is hard to imagine a more successful event against the backdrop of a pandemic. I am grateful that Bryan Stevenson, who received the NACDL Lifetime Achievement Award, and our other featured guests were willing to participate in the special night. I applaud the gala committee, our development director, all the staff members who contributed, and all of you who joined this event from sofas around the country. We had great fun for one night, and the proceeds of the event will allow our work for justice to continue full speed ahead for another year.
Fifth, our membership committee and the membership director and her staff are doubling down to make sure that no member is left behind during this economically challenging year. We are a strong organization because of our shared values and because of our community. We cannot afford to shrink. This pandemic is a time to grow our voice and our membership. As a way to support members, NACDL is reducing dues in the upcoming year. Additionally, NACDL's membership team is reaching out to each individual with an expiring membership. Bottom line: any criminal defense lawyer who wants to continue as a member but is having a difficult time financially is welcome to stay with us. We will get through this pandemic together.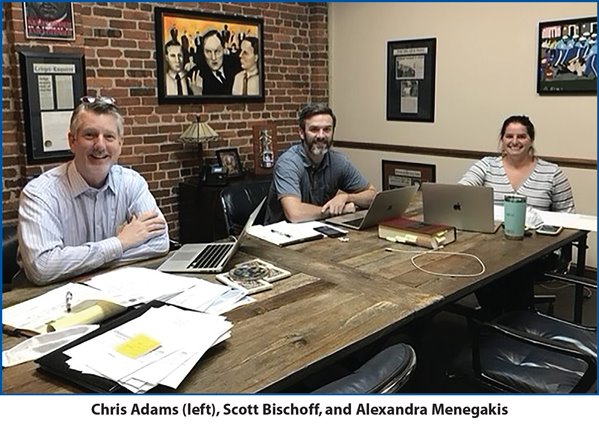 Sixth, the Strike Force has been active throughout the pandemic in representing and counseling members who have opposed premature courtroom reopening and are imperiled with the risks of contempt, disqualification, or subpoena for privileged information. The Strike Force protects the anonymity of members who find themselves in need of Strike Force assistance. If you have an issue that may be appropriate for Strike Force assistance, please contact your circuit representative.
Seventh, who needs Netflix when you can binge watch NACDL webinars to win acquittals? Our CLE team quickly converted the bulk of the scheduled seminars into webinars. As much as NACDL members enjoy being together to learn (and to dine, drink, and dance), many more lawyers are able to participate in online programming than in a live event. Since the start of the pandemic, the CLE team has had 13,500 participants attend CLE trainings. If you missed a program and are interested in watching it, the programs listed below can be purchased and streamed from the website.
Pozner on Cross — July — Virtual CLE
Pozner on Cross — May — Virtual CLE
NFC — Abusive Head Trauma
CLE Without Contact — 10-Episode Series
Pattern Cross-Examination
The programs offer the same high quality that you are accustomed to from NACDL, and the convenience is unbeatable. And there is an additional benefit that I wasn't counting on when all the programming moved online. Early in the pandemic, Larry Pozner spoke from Hawaii for seven hours on cross-examination. I would listen to Larry anytime, anywhere. The man is a genius, and every time I've heard him, I have come away with tips, tactics, and tools that make me a better lawyer in my next trial. Since it was a webinar, three lawyers in our firm watched together. In addition to what I learned from Larry, I had the true joy of watching two people important to me be exposed to Pozner for the first time.
Finally, the staff of NACDL has been amazing throughout the pandemic. They were locked out of the office when Washington, D.C., issued a stay-at-home mandate. Our staff members took their computers home and never stopped working for you and for our mission. They have been as productive as ever despite the challenges.
One bright spot of this pandemic is that it has given us a chance to focus on what is really important in life. What we do as criminal defense lawyers is really important. NACDL, which arms us to be better lawyers and connects us to a great community of advocates, is really important. And NACDL's great staff rising to the occasion, never missing a beat in pushing for a more just criminal law system? That's really important too.
About the Author
After spending 15 years as a public defender and nonprofit lawyer, Chris Adams opened his private practice in 2007. He devotes half of his practice to defending men and women facing the death penalty in federal and state courts throughout the country. He also defends people and businesses facing allegations or investigations in federal and state courts.
Christopher W. Adams (NACDL Life Member)
Adams & Bischoff, LLC
Charleston, South Carolina
843-277-0090
chris@adamsbischoff.com
www.adamsbischoff.com